OKO
In 2004, while selecting a topic for master degree project, my advisor brought to my attention content-based image retrieval problem. The goal of OKO (means eye in old Russian) project is to build a prototype of a content-based image retrieval system.
There are many approaches to content-based image retrieval. We based our system on an algorithm, which used wavelets and multiresolution analysis to extract salient point, or points of interest out of the picture, and extracted a number of features to index.
Several aspects of salient point extraction process were explored, such as singal band, saliency computation start level, wavelet family, color space. Local colour and shape features based on the pixels in the vicinity of the found salient points were extracted and indexed.
The working prototype of the system was implemented in a MATLAB environment. The prototype consisted of a series of scripts which analysed images, build index and executed queries against it.
Sample queries
The prototype was tested on a database of 858 images. The database was clustered and contained several clusters of similar images, so that the retrieval quality could be quickly evaluated visually.
Left top image in all examples below is the query image. This sample query shows the retrieval of the planes cluster. All images from the cluster were retrieved. Last images in the results show that algorithm actually captures the shape of the object :)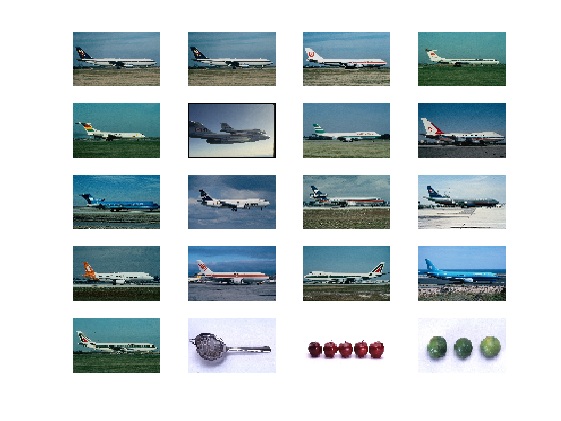 More noisy and more difficult cluster with bears and here we see some ranking errors, although the cluster was retrieved completely.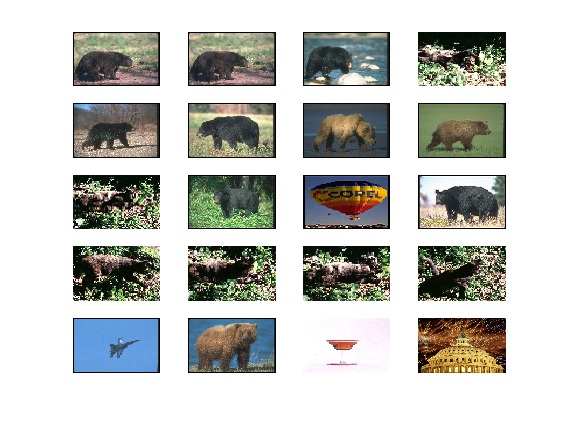 More difficult example with an object that is hard to detect even for humans. First few images represent a small cluster with an animal moving in the bushes. The ranking here is better.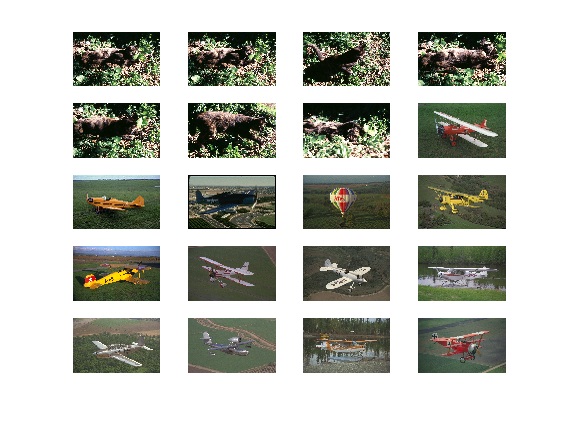 Master thesis
My master thesis presentation provides a bit more details. My master thesis gives a more comprehensive account (it's in Russian, but there are many images inside :).